Hopeline Christian Society and partners have helped repair 25 homes and provide food and medical relief in Haiti after Hurricane Matthew.
Stop or Replay
Music Here

Jeff Mooradian
You can contact us at
info@hopeline.org

How It Works for Those who Want a Life In Missions...
Bank and Major Credit Card Donation Help
Annette, is a local girl from Middlebury, Indiana who has always wanted to go somewhere on the mission field.
Unfortunately, work, life and finances have gotten in the way. Working with Hopeline Christian Society Annette has turned her desire to help lonely and hurting people into a ministry in her local area.
Aka, "The Cowgirl" now visits isolated and lonely people as a "Postcard from God" to let them know they are loved.
Even more amazingly her "Cowgirl" ministry has become a large part in helping her being to able to go on a 2 week missions trip in June that has changed her life forever. www.hopeline.org/Cowgirl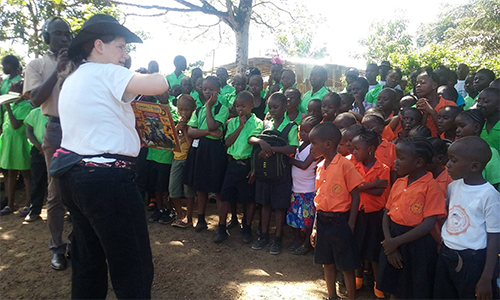 New Hope Academy, an orphanage in Liberia with over 350 children that Hopeline Christian Society along with Annette and several others have been helping on and off over the last couple of years.
Hopeline can help make your dreams like this come possible. Changing you, other ministries and those needing Jesus' love around the world.