Hopeline Christian Society and partners have helped repair 25 homes and provide food and medical relief in Haiti after Hurricane Matthew.
Stop or Replay
Music Here

Jeff Mooradian
You can contact us at
info@hopeline.org

How It Works for Those who Want a Life In Missions...
Bank and Major Credit Card Donation Help
Annette, is a local girl from Middlebury, Indiana who has always wanted to go somewhere on the mission field.
Unfortunately, work, life and finances have gotten in the way. Working with Hopeline Christian Society Annette has turned her desire to help lonely and hurting people into a ministry in her local area.
Aka, "The Cowgirl" now visits isolated and lonely people as a "Postcard from God" to let them know they are loved.
Even more amazingly her "Cowgirl" ministry has become a large part in helping her being to able to go on a 2 week missions trip in June that has changed her life forever. www.hopeline.org/Cowgirl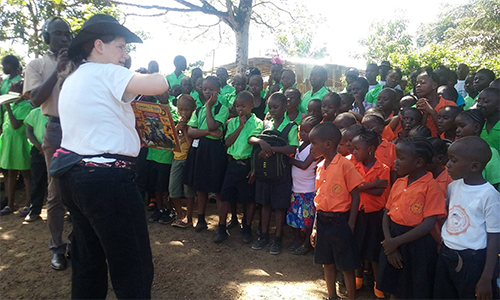 New Hope Academy, an orphanage in Liberia with over 350 children that Hopeline Christian Society along with Annette and several others have been helping on and off over the last couple of years.
Hopeline can help make your dreams like this come possible. Changing you, other ministries and those needing Jesus' love around the world.

THANKSGIVING
We live in a world that mostly ignores and rejects the God of the Bible, Jesus Christ. We worship false gods like Islam, Money, Multi-Culturalism and the Earth but reject the God that created us all and sustains us with good and perfect gifts. All we need to do is look around to see the chaos and hatred we are creating towards each other through rejecting God. We are becoming more selfish and expect everyone to give us everything we want for nothing, apparently just because we deserve it because we are special. I am not special nor are you other than we have a God (Jesus) that loves us because of who He is.
Love is a choice. A choice to do good for others that they would not do for you. A choice to not expect others to do things for you but to be appreciative when they do something for you.
Thanksgiving is a time to remember the love God has given us and how He wants to bring us together in love. Jesus gave His life for us on the cross, provides us food for us and gives us family and friends to love. He does this not because of how special we are or what we have done for Him but because of His love for us in spite of the evil we have done to Him. We need to show love to others. Not because we have to or are expected to, but because we choose to. We need to open our eyes because have so much to be thankful for.
Share your love this Thanksgiving.
IT IS MORE BLESSED TO GIVE THAN TO RECIEVE...